(636) 387-2043 Bob Huneke
(636) 544-1960 Brad Newton
(636) 544-9754 Shawn Duffy
Senior Steam Turbine Generator Field Service Engineers at a rate you can't beat
Our Services
contact us
Brad Newton - GE Turbine Generator Service
Shawn Duffy - Generator Service
Robert Huneke - Westinghouse Turbine Generator Service
Technical Direction Services for Steam Turbine Generators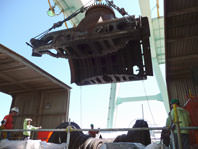 We can work with you to oversee an outage for steam turbine generator repair, maintenance, or uprating. We have experience providing our technical direction services for all types and brands of steam turbines including nuclear steam turbine generators and fossil steam turbine generators. This experience allows us to offer quality planning, and reporting services for any outage.
Our steam turbine technical direction services can include:
Developing work packages and data sheets
Providing a comprehensive list of trusted subcontractors and vendors for all steam turbine generator repair services
Monitoring labor to ensure safety and accuracy of the work
Preparing a comprehensive outage documentation report, which allows you to track all details of the outage and repair operations
Please contact our turbine generator service company to learn more about our technical direction services for steam turbine generators or to find out more about how we can help you with your steam turbine generator repair and outage planning and management needs.
Our Steam Turbine Generator Technical Direction Services
Our professionals and experts offer technical direction services for all types of steam turbine generators including fossil steam turbine generators, nuclear steam turbine generators, and industrial turbine generators. We can work directly with your labor force or a maintenance contractor labor force to complete any type of service for your steam turbine generators. This includes during the disassembly, inspection, repair, and assembly of your steam turbine generators. We will oversee and witness all work in order to assure that the industry's best practices are used. We will make sure that all work is performed according to the manufacturer's recommendations in order to achieve the best results.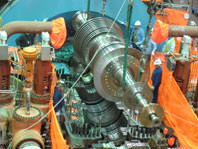 We take special precautions during steam turbine generator repair or maintenance services in order to avoid delays and prevent future problems. This includes making sure that all critical dimensional information is taken during the disassembly, repair, and assembly processes. We will visually inspect all parts in order to identify signs of damage or unusual conditions. We can make real time assessments and provide recommendations as soon as problems are discovered in order to avoid delays in making repairs or modifications to steam turbine generators.
Protecting your people and your equipment as we offer technical direction services during any repair or maintenance project for your steam turbine generator is always our first priority. Therefore, our professionals will provide constant surveillance as part of our technical direction services in order to look out for unsafe conditions and acts. We will check open lines, turbines, generators, lube oil reservoirs, exciters, and more to ensure that good FME practices are in place and followed throughout the outage.
We will provide you with a detailed final report containing call data sheets and recommendations within 30 days of your outage completion date. This final report is provided before demobilization for most outages.
Learn More About Technical Direction for Steam Turbine Generators
It is our goal as a quality driven steam turbine generator services company to offer each customer professional service at quality prices. Our technical direction services can help you address and resolve even some of the most complicated issues. We have experience working with all types of steam turbine generators for a variety of clients, and can apply this experience to your project. We will ensure that your outage or repair service is completed smoothly, and we are prepared to handle any unexpected issues that may occur while providing technical direction for your project.
Contact us to learn more about our technical direction services and to find out how we can help you plan and manage your steam turbine generator outage.