(636) 387-2043 Bob Huneke
(636) 544-1960 Brad Newton
(636) 544-9754 Shawn Duffy
Senior Steam Turbine Generator Field Service Engineers at a rate you can't beat
Our Services
contact us
Brad Newton - GE Turbine Generator Service
Shawn Duffy - Generator Service
Robert Huneke - Westinghouse Turbine Generator Service
Our Experience: Complete Services for Turbines and Generators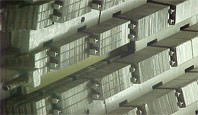 Our turbine generator engineers have experience working with most types of turbines and generators including fossil steam turbine generators and nuclear steam turbine generators. We can work on all types of projects and are prepared to help our clients with turbine or generator service including during installation, repair, maintenance, and retrofitting projects for turbines or generators.
You can learn more about our experience and our available generator services including Technical Direction, Generator Testing and Inspection, Project Management, Consultation, Scheduling, and Outage Planning here on our website. You can also contact us at our turbine generator services company for additional information about our company and to schedule your service.
Our Experience with Turbines and Generators
Our experience with turbines and generators has led us to work with most types of equipment and many different components of turbines and generators. We can help you plan, schedule, prepare for, and execute nearly any project with our complete generator services. We can help if you are planning for an outage of your turbine generator or if you need inspection or consultation services to help diagnose a problem and recommend alternative options.
Some of the types of turbine and generator projects on which we have previously worked include:
Providing technical direction on outages and new unit construction
Managing major outages for fossil or nuclear turbines and generators
Installing new HP / IP and LP turbine retrofits
Installing new generator, SCW system, and collector retrofits
Installing new EH control system retrofits
Installing new TSI system retrofits
Managing main valve upgrades and seat replacements
Managing and performing generator stator and field rewinds
Managing and performing generator stator and field repairs
Performing SCW system pressure and vacuum decay testing
Performing generator and exciter collector testing
Performing steam path audits
Technical Services for All of Your Turbine and Generator Components
We can work with all of the components of your turbines and generators, with our consultation, planning, scheduling, technical direction, and managing services including:
Main Valves and Controls
Turbines
Generators and Exciters
You can learn more about the types of types of generators and equipment with which we can work by contacting us.
References for our Turbine & Generator Services
The following are some previous clients for whom we have provided turbine generator services. Please contact us if you would like to learn more about these projects.
AEG
AGT
Ameren

Coffeen 2
Duck Creek 1
Edwards 1, 2, & 3
Grand Tower 3
Labadie 2, 3, & 4
Medina Valley 1
Meramec 3 & 4
Meredosia 3
Newton 2
Rush Island 1 & 2
Sioux 1 & 2
Taum Sauk 1 & 2

ATCO
City Utilities Springfield
Colorado Energy
Dynegy
Lakeland Electric
Midwest Service Center
Marshal Municipal Utilities
NRG
Reinhardt & Associates
Siemens
ST Cotter
STEAM
TransAlta
Westar
Xcel Energy
Pawnee Station 1