(636) 387-2043 Bob Huneke
(636) 544-1960 Brad Newton
(636) 544-9754 Shawn Duffy
Senior Steam Turbine Generator Field Service Engineers at a rate you can't beat
Our Services
contact us
Brad Newton - GE Turbine Generator Service
Shawn Duffy - Generator Service
Robert Huneke - Westinghouse Turbine Generator Service
Generator Testing & Inspection Service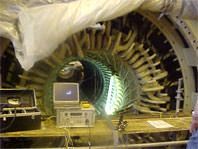 We offer generator testing and inspection services for all types of fossil and nuclear generators. We have experience working with nearly all types of equipment and can offer complete and accurate testing services. We will inspect and test all parts of your equipment during your generator testing service. This thorough inspection will allow us to generate accurate reports and make complete recommendations in order to keep your equipment working properly and at maximum efficiency.
Our generator testing and inspection services are available for all types of turbine generators including:
Fossil Steam Turbine Generators
Nuclear Steam Turbine Generators
Gas Turbine Generators
Industrial Turbine Generators
Contact the turbine generator service professionals at Turbine Generator Technical Services today to schedule your generator testing and inspection service or to learn more information about any of our available services.
About Our Generator Testing Services
Our experts offer generator testing services for all types, sizes, and brands of equipment. We have worked with a variety of customers and are familiar with nearly any type of generator including fossil steam turbine generators and nuclear steam turbine generators. We have a complete selection of test equipment available for generator testing including equipment for routine low-voltage generator testing. Our routine low-voltage testing services include:
RTD resistance testing with temperature conversion and 500 volt megger
500 volt megger of the field with Polarization Index (P.I.)
Impedance testing of the field
Copper resistance of the field with temperature conversion to factory test temperature
Copper resistance of stator 3 phases converted to factory test temperature
Megger of stator 3 phases with P.I. up to 5000 volts
Visual inspection of all accessible areas
Comprehensive report including photos, recommendations and data sheets
We also offer a variety of optional tests as well. These optional generator testing services can be completed as required to meet your individual needs. Our optional tests include:
Pressure / Vacuum Testing
El Cid Testing
DC Leakage and Hi Pot Testing
Capacitance Mapping
The Importance of Generator Testing: Keeping your Systems Working
Both the electrical tests and the visual inspections, which are included in our generator testing services, are important for ensuring proper generator performance. These generator testing and inspection services will allow us to generate accurate recommendations, which can be used when planning and scheduling for outages and turbine or generator repairs. It will also help you evaluate the condition of your equipment in order to determine if replacement or modernization projects are necessary.
The main goal of our generator testing and turbine generator service is to optimize your equipment so that it will run reliably and efficiently. We are familiar with all types of equipment and understand the intricate details of the inside of your machine. This allows us to provide thorough service to help you achieve the best results. Please contact our turbine generator experts today to learn more about how our generator testing services can help you.
Complete Turbine Generator Testing & Inspection Services
We can inspect all parts and aspects of your equipment when performing our turbine generator testing and inspection services. This includes performing testing for generators, exciters, and other related equipment. These complete turbine and generator testing services will ensure that your entire system is working properly and efficiently.
Learn More About our Generator Testing Services
If you would like to learn more about our turbine generator testing and inspection services or you are interesting in learning more about our company, please contact the professionals at Turbine Generator Technical Services today.